ABOUT NONOX BV
Nonox, founded in 1996, started with the development of new technology gas engines with both superior environmental and fuel economy properties. Nowadays, Nonox has worldwide patented technology which can be applied to natural gas, diesel and petrol engines.
Since 2010, NONOX BV was significantly involved in the development of 100% electric City buses and the implementation into the European market.
NONOX Director Walter Luijten together with Peter Bijvelds from EBUSCO are the founders of the Dutch E-Bus producer EBUSCO BV which is one of the pioneers of electric bus development and actually one of the strongest companies in Europe in terms of 100% Electric city buses.
NONOX BV technical department built the first technical development team at EBUSCO BV and started the grow-up of EBUSCO technical department and the coöperation with Chinese partners Zhuhai Yinlong Energy Co., Ltd. and Xiamen Golden Dragon Bus Co., Ltd. to define and produce a city bus compliant with European quality standards and performance requirements. Later also Xiamen BCI Bus & Coach Co., Ltd. became a partner.
At the IAA 2012 Heavy Duty Trucks & Buses exhibition in Hannover (Germany) the first 100% electric bus was presented and also used as a driving demonstrator on the exhibition area. This IAA 2012 event can be seen as the break-through event to demonstrate the possibilities of E-Mobility in the public bus sector in Europe.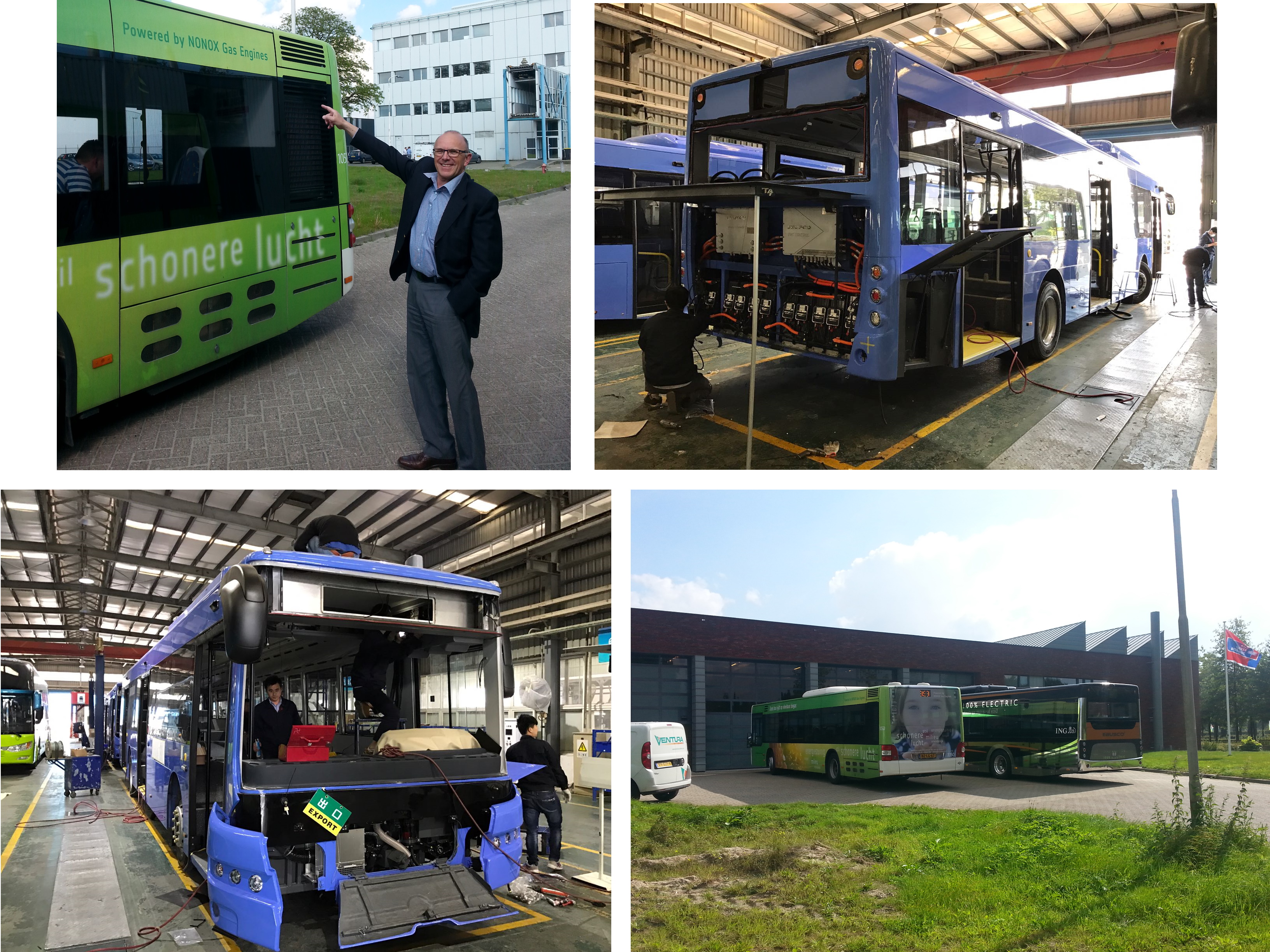 The pictures show the MAN based City bus powered by a 210 kW NONOX Gas engine and fueled with LNG (LBG) as well as the 100% electric battery city bus from EBUSCO BV.
The experience from NONOX in both worlds of Heavy Duty vehicle development with combustion engine drivelines and pure electric drivelines excited NONOX BV to create concepts for Heavy Duty trucks with hybrid driveline configuration to combine the advantages of both technologies. Target is to extend the range of Heavy duty trucks by using high efficient and powerful NONOX gas engines and to be able to drive pure electric in inner City areas up to a 100 km range.
In summary, this concept is able to fulfill on all requirements coming from transport companies as well as from environment legislation.